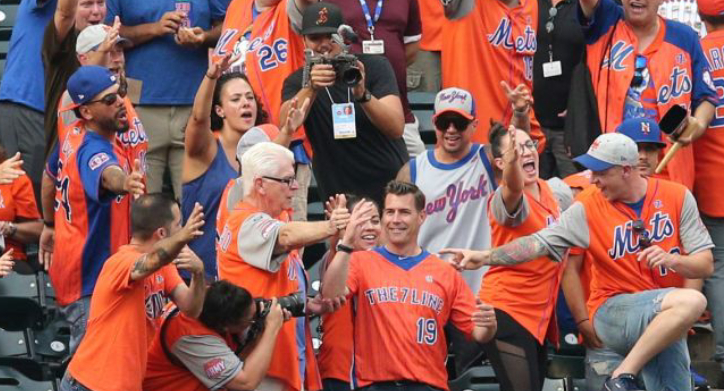 Not every season can have a happy or satisfying ending and the Mets have been living proof of that for the past few seasons. Below are a few reactions from the Mets' populace over the latest freefall, a plunge that ended with the final game ever played in Shea Stadium. Jon Lewin, Subway Squawkers: "This year wasn't a choke. This year, the Mets weren't good enough to be a championship team — not with that horrible bullpen. It was fitting that three of the more dependable members of the pen (which isn't saying much) all failed when it counted most. Joe Smith walked in a run. Scott Schoeneweis gave up a homer to the first man he faced. He gave way to Luis Ayala, who promptly did the same. It's devastating to miss the playoffs again, but let's face it this bullpen wouldn't have a prayer in the postseason. Whatever the reason, failure has been a way of life around this franchise for most of its 47 seasons. It was cute and funny in the early 1960s, less so after the miracle of 1969, and damned near intolerable now.
"Still, the Mets continue to refine the process of torturing their fans to the point it has reached today. They drag you along for the ride for 161 games, raising your hopes, dashing them and raising them again, before leaving you a quivering, hopeless, lifeless wreck on the final day of the season. "They have done it two years running now, bad history repeating itself in the worst possible way, from the rousing victory on the second-to-last day of the season that fills everyone with optimism to the final-day implosion that leaves everyone plunged into yet another winter of despair." Mike Vaccaro, NY Post: "(Jerry) Manuel is one of the few members of the organization who can awaken proud of himself this morning, because all across the past two weeks he has tried to cajole every last bit of life, strength and hope out of his baseball team.
Not all of his moves worked, but enough of them did, enough to keep hope flickering until the very end. "It is right that he will apparently lose the 'interim' from his title and be allowed to take this team into CitiField next year and see what he can do across 162 games, to build on a 31/2-month tenure that did see the Mets play 18 games over .500. He is the one Met, from the Wilpons at the top to the dregs of the bullpen below, who gets a passing grade for 2008."Andrew Vazzano, The 'Ropolitans: "I didn't think I'd be so beat up over this, but I already miss Shea Stadium. That final send off had me in tears from beginning to end, and I wasn't even around for most of that history. Seeing Mike Piazza and Tom Seaver walk from home plate, out to center field, and 'shut the door' on Shea Stadium has me teary eyed even writing about it. Goodbye, Shea. You served us, the fans, admirably for 45 years. We'll all miss you, but we'll never forget the memories we saw within your walls.
"Peter Abraham, LoHud Yankees Blog: Yankees 89-73 48-33 home 41-40 road 789 runs scored 727 runs allowed Mets 89-73 48-33 home 41-40 road 799 runs scored 715 runs allowed Anthony DeRosa, Hot Foot: "Being a fan is more than just wins and losses. It's the memories I have of games i've witnessed whether or not they were part of a winning season, it's the players I've rooted for and grown fond of because of their sincere love and appreciation of playing for this team. It's the times I've shared at the ballpark with my father, and lifelong friends. It's Shea Stadium, which was my home for the better part of the past 20 years, and will soon be just a memory. "It's hard to let go of this season, but watching Tom Seaver and Mike Piazza take a long walk to the centerfield gate in almost a dream-like sequence, I felt so fortunate, so proud of being a fan of this team. Losing is part of the deal, having your heart broken in such epic fashion time and again is what we signed up for. Because every so often, there are moments of indescribable joy." JM Mets, Amazin' Avenue: "So tear the old place down. There won't be any playoffs this year. Maybe it is better off. We have a clean break. Next year, we move into a beautiful new stadium.
We will have to get used to being in a beautiful new stadium. Maybe we will get some relief pitching, finally. Then you watch Tom Seaver and Mike Piazza, Mets Hall-of-Fame royalty, walk out the open wall of center field at Shea. You watch them close the door. You know everything there is to know about the place and it is over. "Then you think it is time to remember this year again. It is time to get serious about the required teeth-gnashing deserving of this year's collapse. Then my mother, no sports fan but conditioned after a lifetime of Little League, CYO baseball and endless broadcasts, sits on the sofa while the closing ceremonies are on TV. Content that her grown-up son came in from the city to spend a Sunday afternoon with her at home in Brooklyn, she knits while the ceremonies unfold. Realizing that this is all about the last game at Shea, she looks up briefly and says, 'You know your father proposed to me at Shea Stadium.' No, I didn't know that. He never told me."